Product Notes
Featured in the Golden Touch 1 Collection
Complements the Juva line, including JuvaCleanse®, JuvaPower®, and JuvaTone® Products
[show_social_links]
Young Living
JuvaFlex Vitality Essential Oil Blend
Retail: $36.84 USD
Wholesale: $28.00 USD
Stock Number: #5639
JuvaFlex Vitality - 5ml
Featured in our Golden Touch 1 Collection,JuvaFlex® Vitality combines Fennel,Geranium, Rosemary, Roman Chamomile, Blue Tansy, and Helichrysumessential oils. A beneficial complement to other supportive dietaryblends, JuvaFlex Vitality can help support a healthy lifestyleregimen when taken internally.*
Use with the rest of Young Living's Juvaline, including JuvaCleanse®, JuvaPower®, andJuvaTone®.
JuvaFlex Vitality Essential Oil Uses:
Take as a dietary supplement daily to support overallwellness.*
To support wellness, take with JuvaTone 2 times daily betweenmeals.*
Add to your favorite green smoothie or juice with JuvaPower toget the most out of this antioxidant vegetable powder complex.
How to Use
Put 2 drops in a capsule. Take 3 timesdaily or as needed.
Ingredients
Sesame (Sesamum indicum) seed oil, Fennel(Foeniculum vulgare)† seed oil, Geranium(Pelargonium graveolens)† flower oil, Rosemary(Rosmarinus officinalis)† leaf oil, RomanChamomile (Chamaemelum nobile)† flower oil, Bluetansy (Tanacetum annum)† flowering top/herb oil,Helichrysum (Helichrysum italicum)† flower oil
†100% pure, therapeutic-grade essentialoil
Click the image below to enlarge.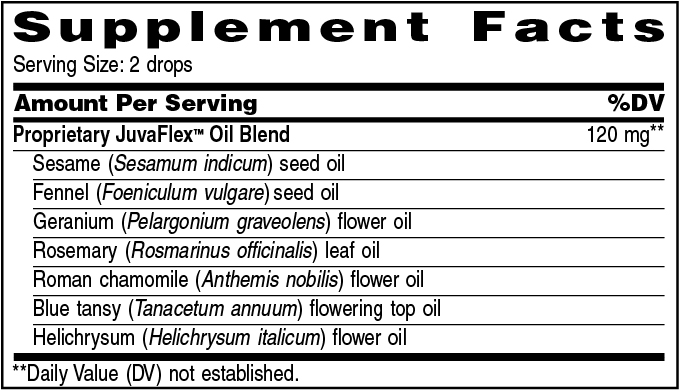 Young Living November Promotion!
Cautions & Disclaimer
*These statements have not been evaluated by the Food and Drug Administration. Young Living products are not intended to diagnose, treat, cure, or prevent any disease.

*Keep out of reach of children. If pregnant, nursing, taking medication, or have a medical condition, consult a healthcare practitioner prior to use.

*Modern scientific research has not yet validated these traditional claims.
Product Notes
Featured in the Golden Touch 1 Collection
Complements the Juva line, including JuvaCleanse®, JuvaPower®, and JuvaTone® Products
How to Use
Put 2 drops in a capsule. Take 3 timesdaily or as needed.
[social_warfare]
Ask Me Anything!
If you have questions about essential oils or healthier living, I'm available! Simply use the form below and I'll be in touch as soon as possible.
YL #1839918