Product Notes
Invigorating and Pleasant Blend
Combines Orange, Grapefruit, Mandarin, Tangerine, and Lemon Oils with a Shot of Spearmint
[show_social_links]
Young Living
Citrus Fresh Vitality Essential Oil Blend
Retail: $9.54 USD
Wholesale: $7.25 USD
Stock Number: #5619
Citrus Fresh Vitality™ - 5ml
This invigorating and pleasant blend is an ideal addition towater, fruit and vegetable juices, and NingXia Red®.Simply add a drop or two to your 2-oz. serving of NingXia Red for azip of flavor and freshness. Add to other fruity treats for acitrus boost to your indulgences.
Citrus Fresh Vitality Essential Oil Uses:
Citrus Fresh Vitality tastes great, but it also makes a greatdietary supplement! Just add 1–2 drops to avegetarian gel capsule and take as needed.
Keep hydrated by giving your daily intake of water a burst offlavor. Infuse your water by adding 3 drops toa glass or bottle of water.
Add 1–2 drops to every 2 oz. of yourfavorite fruit and vegetable juices or NingXia Red. Drink each dayor whenever you're looking for a quick burst ofnutrients and flavor.
How to Use
Put 2 drops in a capsule. Take 3 timesdaily.
Ingredients
Citrus aurantium dulcis† (Orange) peel oil,Citrus reticulata† (Tangerine) peel oil, Citrusparadisi† (Grapefruit) peel oil, Citruslimon† (Lemon) peel oil, Citrusnobilis† (Mandarin orange) peel oil, Menthaspicata† (Spearmint) leaf extract
†100% pure, therapeutic-grade essentialoil
Click the image below to enlarge.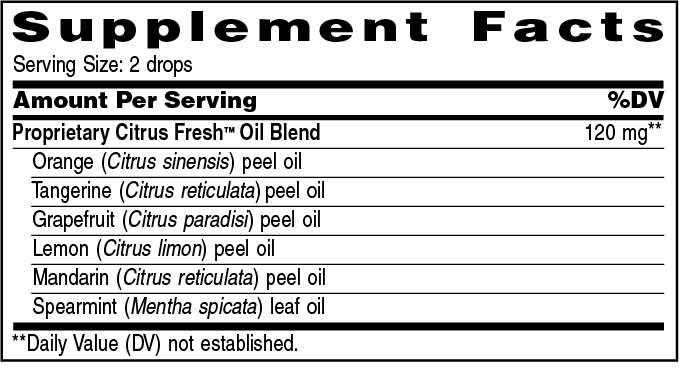 Young Living November Promotion!
Cautions & Disclaimer
*These statements have not been evaluated by the Food and Drug Administration. Young Living products are not intended to diagnose, treat, cure, or prevent any disease.

*Keep out of reach of children. If pregnant, nursing, taking medication, or have a medical condition, consult a healthcare practitioner prior to use.

*Modern scientific research has not yet validated these traditional claims.
Product Notes
Invigorating and Pleasant Blend
Combines Orange, Grapefruit, Mandarin, Tangerine, and Lemon Oils with a Shot of Spearmint
How to Use
Put 2 drops in a capsule. Take 3 timesdaily.
[social_warfare]
Ask Me Anything!
If you have questions about essential oils or healthier living, I'm available! Simply use the form below and I'll be in touch as soon as possible.
YL #1839918